TOOL AND CUTTER GRINDING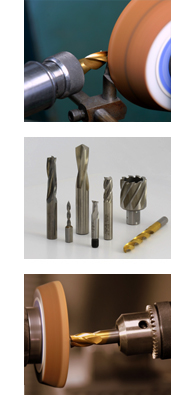 Precise offer a unique grinding service based on methods that are fully compatible with original tool manufacturing.
Our service utilizes technology and expertise, resulting in cutting tool quality that is at the very least equal to the quality of your cutting tools when they were new.  In some cases the quality of your cutting tools could be even better than the original.
Cutting Tools
We offer wide range of standard and none standard cutting tools. Products available in Hss, cobalt, solid carbide. We can cater for almost all applications. Drilling, Sawing Milling Reaming and threading.
A small selection of products we offer.
Counter bores, countersinks, Reamers, milling cutters, taps & Dies, side & face cutters, lathe tools, solid carbide saws, Special circular saws, Band saw blades, Hacksaw blades, Special form tools.
New Coating from TTI
The new PVD coating Exxtral Blue® is now available in the UK.
Exxtral Blue® is based on the AlTiN coating Exxtral Plus®. The addition of another element to this Exxtral Plus® produces a coating which is
not only blue but has both a higher hardness (4000-5000Hv) and oxidation resistance (up to 900oC). Apart from its aesthetically pleasing blue / purple colour, the performance of the coating is exceptional. Drilling tests into a material hardened to 62Rc reveal that Exxtral Blue® performs better than those similar coatings of our competitors.
Milling tests into the same hard material also show a marked improvement in its performance over Exxtral Plus® - a coating which already has very high performance.