PRECISE SAW AND TOOL BANDSAW BLADES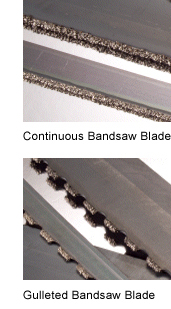 Bandsaw blades
We offer a wide and varied range of quality bsb, for all cutting applications in loop and coil form.Carbon: Recommended for general purpose cutting at an attractive cost on easy to machine materials. Hardened and tempered tooth tips to 64/66 Rockwell C Hardness.

Bi-metal
With a new stronger tooth design giving maximum cutting performance, the M42 Bi-metal blade is the first choice for cutting various types of material from Aluminium to Stainless Steel. A new generation of general purpose blades, Whether you're cutting non-ferrous materials, solids, pipes, profiles or bundles, precise saw & tool have the blade for you.

TCT
Carbide Triple Set Bandsaw Blades have a unique set tooth design for fast cutting and easy feeding with good kerf clearance eliminating tooth loss.

Tungsten Carbide Grit Edged Bandsaw Blades
Our range of tungsten carbide grit edged bandsaw blades have been developed in direct response to industry applications involving an increasing number of complex and abrasive materials. When combined with tighter radius cuts
and minimal blade wander, you have a tool to solve the worst cutting problems. The range of bandsaw blades includes six different grit sizes and available with a continuous edge or a gulleted edge -
a selection to suit virtually all cutting challenges.




The selection of applications below illustrate the
versatility and high performance of our tungsten
carbide grit edged blades:



Boat Building


Brake Pad Sectioning


Building and Construction


Computer flooring


Destruction Testing of Aircraft Jet Engines


Grout Removal


Hardwood or Laminate floor installation


Installation of Recessed Lighting


Plaster or Dry Wall Installation


Tiling

Tyre Sectioning
Tyre manufacturers must continually quality test their tyres, a process which involves sectioning the tyre - a combination of tough, pliable and snaggy materials including fibreglass or metal mesh reinforcement.

This combination snags and breaks teeth of traditional blades

Our blades cut through these materials with ease.